CONSUMER INFORMATION ON THE RIGHT OF WITHDRAWAL FROM THE DISTANCE AGREEMENT
RETURN
If you want to return the product - no problem! You have the right to do it, and to go smoothly and efficiently through it you must complete 3 STEPS (calmly, we have prepared a diagram that will guide you).
REMEMBER:

- You must keep the deadline of 14 calendar days from the receipt of the package,
- The product need to be new and must contain a seal and labels.


The costs of sending back the goods shall be by the buyer side. Parcel labelled cash on delivery will not be picked up. Goods that do not meet all of the above conditions will be sent back at the expense of the customer and will be the basis for the non-consideration of the return.


HOW TO CORRECTLY DO A RETURN STEP BY STEP


STEP 1 / RETURN ON-LINE
The on-line return option for: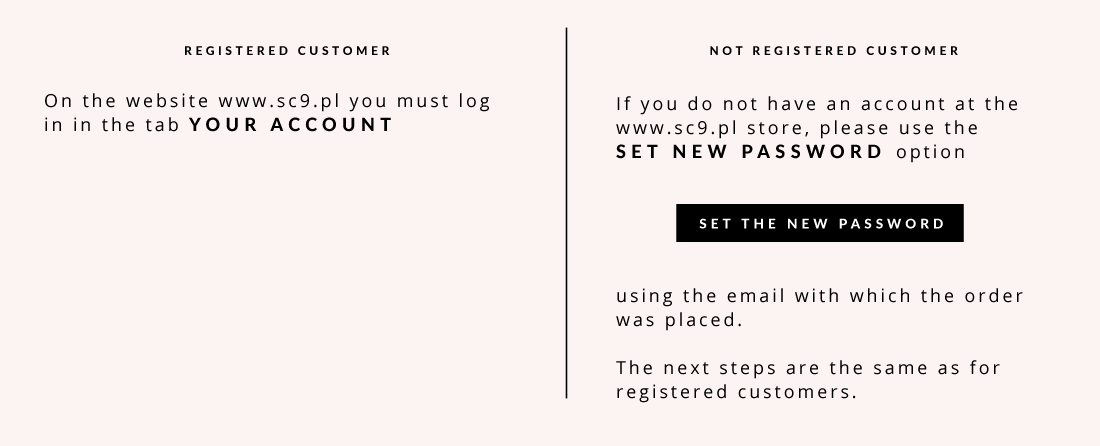 - In the ORDER section, we enter:

- Then a problem - free PRODUCT RETURN / on the left side /.


- And then RETURN A PRODUCT.


-In the next step, we choose the product that we want to return by choosing it.

- Then choose return METHOD.
- The last step we approved by clicking - ADD A RETURN NOTIFICATION.
STEP 2 / RETURN IN WRITTEN FORM:
If you have already added the online refund request, now prepare your return package. In order for us to identify the sender quickly and efficiently, please attach a completed form that we attach to each shipment.


However, if you do not have it - it is available for download HERE.
STEP 3 / PRODUCT REFERENCE
Almost ready ! Now return the order prepared to us at the following address::
RETURN SHOPPING CENTER 9

ul. Gdyńska 25 LOK. 56

58-100 Świdnica, POLAND
Refunds of payments we make maximum within 14 calendar days counted from the moment of receiving the shipment from the customer.
EXCHANGE
The exchange of goods consists in withdrawing from the contract, i.e. RETURNING selected items, then submitting and paying for a new independent order.
If you have any questions, please contact our helpline on +48 531 369 765 or by email - sklep@sc9.pl. More information about the return and exchange can be found in the SHOP REGULATIONS.
REFUND FORM - available for download HERE