Easy product returns
Buy a product and check it in your own time, at home.
You can return the product without providing a reason within 14 days.
Show details
14 days for

a return
Your satisfaction is very important to us, therefore you can make a return without providing a reason within 14 days.
Free return
We care about your convenience, therefore we offer you an easy-to-use return module.
Easy returns

wizard
All returns processed by our shop are managed in a easy-to-use returns wizard which gives you the ability to send a return parcel.
Fit and sexy set made of high-quality and flexible fabric.
The set includes a beautiful pencil skirt with a high waist and a short crop top with long sleeves.
The product is made from a very nice, ribbed cotton.
The combination of these two elements gives the impression of a sexy dress with cheeky crack around a woman's waist.
Pencil skirt with a sweater or shirt and the top will be the best paired with a short and flared skirt.
95% cotton, 5% elasten
High-quality and flexible fabric
Cotton band
Size onesize (ideal for XS / S)
Dimensions skirt: width at the waist 28cm x2, total length 62cm
Dimensions of top: width bust 39cm x2, total length 36cm, sleeve length from armpit 48cm
Made in Poland by Shopping Center 9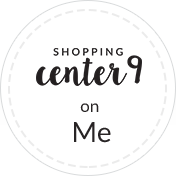 BLACK MILANO SET styled by the SC9 on Me! community
<blockquote class="instagram-media" style="background: #FFF; border: 0; border-radius: 3px; box-shadow: 0 0 1px 0 rgba(0,0,0,0.5),0 1px 10px 0 rgba(0,0,0,0.15); margin: 1px; max-width: 658px; padding: 0; width: calc(100% - 2px);" data-instgrm-version="7"> <div style="padding: 8px;"> <div style="background: #F8F8F8; line-height: 0; margin-top: 40px; padding: 50.0% 0; text-align: center; width: 100%;"> <div style="background: url(data:image/png; base64,ivborw0kggoaaaansuheugaaacwaaaascamaaaapwqozaaaabgdbtueaalgpc/xhbqaaaafzukdcak7ohokaaaamuexurczmzpf399fx1+bm5mzy9amaaadisurbvdjlvzxbesmgces5/p8/t9furvcrmu73jwlzosgsiizurcjo/ad+eqjjb4hv8bft+idpqocx1wjosbfhh2xssxeiyn3uli/6mnree07uiwjev8ueowds88ly97kqytlijkktuybbruayvh5wohixmpi5we58ek028czwyuqdlkpg1bkb4nnm+veanfhqn1k4+gpt6ugqcvu2h2ovuif/gwufyy8owepdyzsa3avcqpvovvzzz2vtnn2wu8qzvjddeto90gsy9mvlqtgysy231mxry6i2ggqjrty0l8fxcxfcbbhwrsyyaaaaaelftksuqmcc); display: block; height: 44px; margin: 0 auto -44px; position: relative; top: -22px; width: 44px;"></div> </div> <p style="color: #c9c8cd; font-family: Arial,sans-serif; font-size: 14px; line-height: 17px; margin-bottom: 0; margin-top: 8px; overflow: hidden; padding: 8px 0 7px; text-align: center; text-overflow: ellipsis; white-space: nowrap;"><a style="color: #c9c8cd; font-family: Arial,sans-serif; font-size: 14px; font-style: normal; font-weight: normal; line-height: 17px; text-decoration: none;" href="https://www.instagram.com/p/BSZb290BaTb/" target="_blank">Post udostępniony przez Efka</a></p> </div> </blockquote>
<blockquote class="instagram-media" style="background: #FFF; border: 0; border-radius: 3px; box-shadow: 0 0 1px 0 rgba(0,0,0,0.5),0 1px 10px 0 rgba(0,0,0,0.15); margin: 1px; max-width: 658px; padding: 0; width: calc(100% - 2px);" data-instgrm-version="7"> <div style="padding: 8px;"> <div style="background: #F8F8F8; line-height: 0; margin-top: 40px; padding: 38.24074074074074% 0; text-align: center; width: 100%;"> <div style="background: url(data:image/png; base64,ivborw0kggoaaaansuheugaaacwaaaascamaaaapwqozaaaabgdbtueaalgpc/xhbqaaaafzukdcak7ohokaaaamuexurczmzpf399fx1+bm5mzy9amaaadisurbvdjlvzxbesmgces5/p8/t9furvcrmu73jwlzosgsiizurcjo/ad+eqjjb4hv8bft+idpqocx1wjosbfhh2xssxeiyn3uli/6mnree07uiwjev8ueowds88ly97kqytlijkktuybbruayvh5wohixmpi5we58ek028czwyuqdlkpg1bkb4nnm+veanfhqn1k4+gpt6ugqcvu2h2ovuif/gwufyy8owepdyzsa3avcqpvovvzzz2vtnn2wu8qzvjddeto90gsy9mvlqtgysy231mxry6i2ggqjrty0l8fxcxfcbbhwrsyyaaaaaelftksuqmcc); display: block; height: 44px; margin: 0 auto -44px; position: relative; top: -22px; width: 44px;"></div> </div> <p style="color: #c9c8cd; font-family: Arial,sans-serif; font-size: 14px; line-height: 17px; margin-bottom: 0; margin-top: 8px; overflow: hidden; padding: 8px 0 7px; text-align: center; text-overflow: ellipsis; white-space: nowrap;"><a style="color: #c9c8cd; font-family: Arial,sans-serif; font-size: 14px; font-style: normal; font-weight: normal; line-height: 17px; text-decoration: none;" href="https://www.instagram.com/p/BUFJJBYF6hS/" target="_blank">Post udostępniony przez Kasia Kiezik (@kasielka)</a> <time style="font-family: Arial,sans-serif; font-size: 14px; line-height: 17px;" datetime="2017-05-14T17:00:12+00:00">14 Maj, 2017 o 10:00 PDT</time></p> </div> </blockquote> <script src="//platform.instagram.com/en_US/embeds.js" async=""></script>
<blockquote class="instagram-media" style="background: #FFF; border: 0; border-radius: 3px; box-shadow: 0 0 1px 0 rgba(0,0,0,0.5),0 1px 10px 0 rgba(0,0,0,0.15); margin: 1px; max-width: 658px; padding: 0; width: calc(100% - 2px);" data-instgrm-version="7"> <div style="padding: 8px;"> <div style="background: #F8F8F8; line-height: 0; margin-top: 40px; padding: 50.0% 0; text-align: center; width: 100%;"> <div style="background: url(data:image/png; base64,ivborw0kggoaaaansuheugaaacwaaaascamaaaapwqozaaaabgdbtueaalgpc/xhbqaaaafzukdcak7ohokaaaamuexurczmzpf399fx1+bm5mzy9amaaadisurbvdjlvzxbesmgces5/p8/t9furvcrmu73jwlzosgsiizurcjo/ad+eqjjb4hv8bft+idpqocx1wjosbfhh2xssxeiyn3uli/6mnree07uiwjev8ueowds88ly97kqytlijkktuybbruayvh5wohixmpi5we58ek028czwyuqdlkpg1bkb4nnm+veanfhqn1k4+gpt6ugqcvu2h2ovuif/gwufyy8owepdyzsa3avcqpvovvzzz2vtnn2wu8qzvjddeto90gsy9mvlqtgysy231mxry6i2ggqjrty0l8fxcxfcbbhwrsyyaaaaaelftksuqmcc); display: block; height: 44px; margin: 0 auto -44px; position: relative; top: -22px; width: 44px;"></div> </div> <p style="color: #c9c8cd; font-family: Arial,sans-serif; font-size: 14px; line-height: 17px; margin-bottom: 0; margin-top: 8px; overflow: hidden; padding: 8px 0 7px; text-align: center; text-overflow: ellipsis; white-space: nowrap;"><a style="color: #c9c8cd; font-family: Arial,sans-serif; font-size: 14px; font-style: normal; font-weight: normal; line-height: 17px; text-decoration: none;" href="https://www.instagram.com/p/BUmmB6_BfcQ/" target="_blank">Post udostępniony przez Efka</a></p> </div> </blockquote>
<blockquote class="instagram-media" style="background: #FFF; border: 0; border-radius: 3px; box-shadow: 0 0 1px 0 rgba(0,0,0,0.5),0 1px 10px 0 rgba(0,0,0,0.15); margin: 1px; max-width: 658px; padding: 0; width: calc(100% - 2px);" data-instgrm-version="7"> <div style="padding: 8px;"> <div style="background: #F8F8F8; line-height: 0; margin-top: 40px; padding: 50.0% 0; text-align: center; width: 100%;"> <div style="background: url(data:image/png; base64,ivborw0kggoaaaansuheugaaacwaaaascamaaaapwqozaaaabgdbtueaalgpc/xhbqaaaafzukdcak7ohokaaaamuexurczmzpf399fx1+bm5mzy9amaaadisurbvdjlvzxbesmgces5/p8/t9furvcrmu73jwlzosgsiizurcjo/ad+eqjjb4hv8bft+idpqocx1wjosbfhh2xssxeiyn3uli/6mnree07uiwjev8ueowds88ly97kqytlijkktuybbruayvh5wohixmpi5we58ek028czwyuqdlkpg1bkb4nnm+veanfhqn1k4+gpt6ugqcvu2h2ovuif/gwufyy8owepdyzsa3avcqpvovvzzz2vtnn2wu8qzvjddeto90gsy9mvlqtgysy231mxry6i2ggqjrty0l8fxcxfcbbhwrsyyaaaaaelftksuqmcc); display: block; height: 44px; margin: 0 auto -44px; position: relative; top: -22px; width: 44px;"></div> </div> <p style="color: #c9c8cd; font-family: Arial,sans-serif; font-size: 14px; line-height: 17px; margin-bottom: 0; margin-top: 8px; overflow: hidden; padding: 8px 0 7px; text-align: center; text-overflow: ellipsis; white-space: nowrap;"><a style="color: #c9c8cd; font-family: Arial,sans-serif; font-size: 14px; font-style: normal; font-weight: normal; line-height: 17px; text-decoration: none;" href="https://www.instagram.com/p/BVKultlDPlS/" target="_blank">Post udostępniony przez Anna K-n (@anna_k_n_)</a> <time style="font-family: Arial,sans-serif; font-size: 14px; line-height: 17px;" datetime="2017-06-10T17:35:02+00:00">10 Cze, 2017 o 10:35 PDT</time></p> </div> </blockquote> <script src="//platform.instagram.com/en_US/embeds.js" async=""></script>