Easy product returns
Buy a product and check it in your own time, at home.
You can return the product without providing a reason within 14 days.
Show details
14 days for

a return
Your satisfaction is very important to us, therefore you can make a return without providing a reason within 14 days.
Free return
We care about your convenience, therefore we offer you an easy-to-use return module.
Easy returns

wizard
All returns processed by our shop are managed in a easy-to-use returns wizard which gives you the ability to send a return parcel.
This product is available in our stores
You can buy this product without placing an online order at one of our stores in your area. Check where the product is in stock.
Check availability
Classics is what creates trends this season!
Universal cut makes the coat fits for daily and evening styling.
Combine it with sneakres, trousers and a classic white t-shirt create
minimalist styl.
Composition: 50% wool, 50% polyester
Classic color
Timeless fashion
Length: midi
Collar in the form of flaps
Imitation side pockets
Gently extended downwards fashion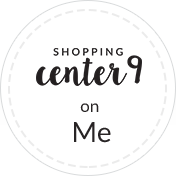 GREY VIENNA COAT styled by the SC9 on Me! community
<blockquote class="instagram-media" style="background: #FFF; border: 0; border-radius: 3px; box-shadow: 0 0 1px 0 rgba(0,0,0,0.5),0 1px 10px 0 rgba(0,0,0,0.15); margin: 1px; max-width: 658px; padding: 0; width: calc(100% - 2px);" data-instgrm-version="7"> <div style="padding: 8px;"> <div style="background: #F8F8F8; line-height: 0; margin-top: 40px; padding: 39.9537037037037% 0; text-align: center; width: 100%;"> <div style="background: url(data:image/png; base64,ivborw0kggoaaaansuheugaaacwaaaascamaaaapwqozaaaabgdbtueaalgpc/xhbqaaaafzukdcak7ohokaaaamuexurczmzpf399fx1+bm5mzy9amaaadisurbvdjlvzxbesmgces5/p8/t9furvcrmu73jwlzosgsiizurcjo/ad+eqjjb4hv8bft+idpqocx1wjosbfhh2xssxeiyn3uli/6mnree07uiwjev8ueowds88ly97kqytlijkktuybbruayvh5wohixmpi5we58ek028czwyuqdlkpg1bkb4nnm+veanfhqn1k4+gpt6ugqcvu2h2ovuif/gwufyy8owepdyzsa3avcqpvovvzzz2vtnn2wu8qzvjddeto90gsy9mvlqtgysy231mxry6i2ggqjrty0l8fxcxfcbbhwrsyyaaaaaelftksuqmcc); display: block; height: 44px; margin: 0 auto -44px; position: relative; top: -22px; width: 44px;"></div> </div> <p style="color: #c9c8cd; font-family: Arial,sans-serif; font-size: 14px; line-height: 17px; margin-bottom: 0; margin-top: 8px; overflow: hidden; padding: 8px 0 7px; text-align: center; text-overflow: ellipsis; white-space: nowrap;"><a style="color: #c9c8cd; font-family: Arial,sans-serif; font-size: 14px; font-style: normal; font-weight: normal; line-height: 17px; text-decoration: none;" href="https://www.instagram.com/p/BbGzf41n_dk/" target="_blank">Post udostępniony przez E V A </a></p> </div> </blockquote>
<blockquote class="instagram-media" style="background: #FFF; border: 0; border-radius: 3px; box-shadow: 0 0 1px 0 rgba(0,0,0,0.5),0 1px 10px 0 rgba(0,0,0,0.15); margin: 1px; max-width: 658px; padding: 0; width: calc(100% - 2px);" data-instgrm-version="7"> <div style="padding: 8px;"> <div style="background: #F8F8F8; line-height: 0; margin-top: 40px; padding: 62.5% 0; text-align: center; width: 100%;"> <div style="background: url(data:image/png; base64,ivborw0kggoaaaansuheugaaacwaaaascamaaaapwqozaaaabgdbtueaalgpc/xhbqaaaafzukdcak7ohokaaaamuexurczmzpf399fx1+bm5mzy9amaaadisurbvdjlvzxbesmgces5/p8/t9furvcrmu73jwlzosgsiizurcjo/ad+eqjjb4hv8bft+idpqocx1wjosbfhh2xssxeiyn3uli/6mnree07uiwjev8ueowds88ly97kqytlijkktuybbruayvh5wohixmpi5we58ek028czwyuqdlkpg1bkb4nnm+veanfhqn1k4+gpt6ugqcvu2h2ovuif/gwufyy8owepdyzsa3avcqpvovvzzz2vtnn2wu8qzvjddeto90gsy9mvlqtgysy231mxry6i2ggqjrty0l8fxcxfcbbhwrsyyaaaaaelftksuqmcc); display: block; height: 44px; margin: 0 auto -44px; position: relative; top: -22px; width: 44px;"></div> </div> <p style="color: #c9c8cd; font-family: Arial,sans-serif; font-size: 14px; line-height: 17px; margin-bottom: 0; margin-top: 8px; overflow: hidden; padding: 8px 0 7px; text-align: center; text-overflow: ellipsis; white-space: nowrap;"><a style="color: #c9c8cd; font-family: Arial,sans-serif; font-size: 14px; font-style: normal; font-weight: normal; line-height: 17px; text-decoration: none;" href="https://www.instagram.com/p/BbFarCQlNhq/" target="_blank">Post udostępniony przez MamAda (@mamadablog)</a> <time style="font-family: Arial,sans-serif; font-size: 14px; line-height: 17px;" datetime="2017-11-04T19:13:09+00:00">4 Lis, 2017 o 12:13 PDT</time></p> </div> </blockquote> <script src="//platform.instagram.com/en_US/embeds.js" async=""></script>
<blockquote class="instagram-media" style="background: #FFF; border: 0; border-radius: 3px; box-shadow: 0 0 1px 0 rgba(0,0,0,0.5),0 1px 10px 0 rgba(0,0,0,0.15); margin: 1px; max-width: 658px; padding: 0; width: calc(100% - 2px);" data-instgrm-version="7"> <div style="padding: 8px;"> <div style="background: #F8F8F8; line-height: 0; margin-top: 40px; padding: 50.0% 0; text-align: center; width: 100%;"> <div style="background: url(data:image/png; base64,ivborw0kggoaaaansuheugaaacwaaaascamaaaapwqozaaaabgdbtueaalgpc/xhbqaaaafzukdcak7ohokaaaamuexurczmzpf399fx1+bm5mzy9amaaadisurbvdjlvzxbesmgces5/p8/t9furvcrmu73jwlzosgsiizurcjo/ad+eqjjb4hv8bft+idpqocx1wjosbfhh2xssxeiyn3uli/6mnree07uiwjev8ueowds88ly97kqytlijkktuybbruayvh5wohixmpi5we58ek028czwyuqdlkpg1bkb4nnm+veanfhqn1k4+gpt6ugqcvu2h2ovuif/gwufyy8owepdyzsa3avcqpvovvzzz2vtnn2wu8qzvjddeto90gsy9mvlqtgysy231mxry6i2ggqjrty0l8fxcxfcbbhwrsyyaaaaaelftksuqmcc); display: block; height: 44px; margin: 0 auto -44px; position: relative; top: -22px; width: 44px;"></div> </div> <p style="color: #c9c8cd; font-family: Arial,sans-serif; font-size: 14px; line-height: 17px; margin-bottom: 0; margin-top: 8px; overflow: hidden; padding: 8px 0 7px; text-align: center; text-overflow: ellipsis; white-space: nowrap;"><a style="color: #c9c8cd; font-family: Arial,sans-serif; font-size: 14px; font-style: normal; font-weight: normal; line-height: 17px; text-decoration: none;" href="https://www.instagram.com/p/BbEtWlmnSSc/" target="_blank">Post udostępniony przez E V A </a></p> </div> </blockquote>
<blockquote class="instagram-media" style="background: #FFF; border: 0; border-radius: 3px; box-shadow: 0 0 1px 0 rgba(0,0,0,0.5),0 1px 10px 0 rgba(0,0,0,0.15); margin: 1px; max-width: 658px; padding: 0; width: calc(100% - 2px);" data-instgrm-permalink="https://www.instagram.com/p/BeAijX7FhgK/" data-instgrm-version="8"> <div style="padding: 8px;"> <div style="background: #F8F8F8; line-height: 0; margin-top: 40px; padding: 50.0% 0; text-align: center; width: 100%;"> <div style="background: url(data:image/png; base64,ivborw0kggoaaaansuheugaaacwaaaascamaaaapwqozaaaabgdbtueaalgpc/xhbqaaaafzukdcak7ohokaaaamuexurczmzpf399fx1+bm5mzy9amaaadisurbvdjlvzxbesmgces5/p8/t9furvcrmu73jwlzosgsiizurcjo/ad+eqjjb4hv8bft+idpqocx1wjosbfhh2xssxeiyn3uli/6mnree07uiwjev8ueowds88ly97kqytlijkktuybbruayvh5wohixmpi5we58ek028czwyuqdlkpg1bkb4nnm+veanfhqn1k4+gpt6ugqcvu2h2ovuif/gwufyy8owepdyzsa3avcqpvovvzzz2vtnn2wu8qzvjddeto90gsy9mvlqtgysy231mxry6i2ggqjrty0l8fxcxfcbbhwrsyyaaaaaelftksuqmcc); display: block; height: 44px; margin: 0 auto -44px; position: relative; top: -22px; width: 44px;"></div> </div> <p style="color: #c9c8cd; font-family: Arial,sans-serif; font-size: 14px; line-height: 17px; margin-bottom: 0; margin-top: 8px; overflow: hidden; padding: 8px 0 7px; text-align: center; text-overflow: ellipsis; white-space: nowrap;"><a style="color: #c9c8cd; font-family: Arial,sans-serif; font-size: 14px; font-style: normal; font-weight: normal; line-height: 17px; text-decoration: none;" href="https://www.instagram.com/p/BeAijX7FhgK/" target="_blank">Post udostępniony przez Natally_Lilly (@natally_lilly)</a> <time style="font-family: Arial,sans-serif; font-size: 14px; line-height: 17px;" datetime="2018-01-16T11:20:00+00:00">Sty 16, 2018 o 3:20 PST</time></p> </div> </blockquote> <script src="//platform.instagram.com/en_US/embeds.js" async=""></script>