Easy product returns
Buy a product and check it in your own time, at home.
You can return the product without providing a reason within 14 days.
Show details
14 days for

a return
Your satisfaction is very important to us, therefore you can make a return without providing a reason within 14 days.
Free return
We care about your convenience, therefore we offer you an easy-to-use return module.
Easy returns

wizard
All returns processed by our shop are managed in a easy-to-use returns wizard which gives you the ability to send a return parcel.
PARIS blouse with frill is a MUST HAVE THIS SEASON!
Sexy neckline additionally gives sensuality and charm.
Elastic neckline allow for all sorts of stylizations.
Perfectly will present itself surrounding the bust and thus highlighting the shapes of a woman.
The original styling also allows you to wear it on shoulders, exposing perfect summer tan.
Made of luxurious cotton!
Ideal as a sensual and light creation, to shorts, skirt or jeans.

95% cotton, 5% elastane
Size: Onesize (Universal)
The unique valance
Eraser in the neck
The variety of styling
MUST HAVE THIS SEASON!
DIMENSIONS: total length: 44cm; width bust: 46cm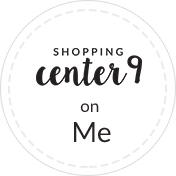 WHITE BLOUSE PARIS styled by the SC9 on Me! community
<blockquote class="instagram-media" style="background: #FFF; border: 0; border-radius: 3px; box-shadow: 0 0 1px 0 rgba(0,0,0,0.5),0 1px 10px 0 rgba(0,0,0,0.15); margin: 1px; max-width: 658px; padding: 0; width: calc(100% - 2px);" data-instgrm-version="7"> <div style="padding: 8px;"> <div style="background: #F8F8F8; line-height: 0; margin-top: 40px; padding: 50.0% 0; text-align: center; width: 100%;"> <div style="background: url(data:image/png; base64,ivborw0kggoaaaansuheugaaacwaaaascamaaaapwqozaaaabgdbtueaalgpc/xhbqaaaafzukdcak7ohokaaaamuexurczmzpf399fx1+bm5mzy9amaaadisurbvdjlvzxbesmgces5/p8/t9furvcrmu73jwlzosgsiizurcjo/ad+eqjjb4hv8bft+idpqocx1wjosbfhh2xssxeiyn3uli/6mnree07uiwjev8ueowds88ly97kqytlijkktuybbruayvh5wohixmpi5we58ek028czwyuqdlkpg1bkb4nnm+veanfhqn1k4+gpt6ugqcvu2h2ovuif/gwufyy8owepdyzsa3avcqpvovvzzz2vtnn2wu8qzvjddeto90gsy9mvlqtgysy231mxry6i2ggqjrty0l8fxcxfcbbhwrsyyaaaaaelftksuqmcc); display: block; height: 44px; margin: 0 auto -44px; position: relative; top: -22px; width: 44px;"></div> </div> <p style="color: #c9c8cd; font-family: Arial,sans-serif; font-size: 14px; line-height: 17px; margin-bottom: 0; margin-top: 8px; overflow: hidden; padding: 8px 0 7px; text-align: center; text-overflow: ellipsis; white-space: nowrap;"><a style="color: #c9c8cd; font-family: Arial,sans-serif; font-size: 14px; font-style: normal; font-weight: normal; line-height: 17px; text-decoration: none;" href="https://www.instagram.com/p/BUtocwfFEwW/" target="_blank">Post udostępniony przez Kinga Anita PL Sdz (@kinga_zc)</a> <time style="font-family: Arial,sans-serif; font-size: 14px; line-height: 17px;" datetime="2017-05-30T10:23:24+00:00">30 Maj, 2017 o 3:23 PDT</time></p> </div> </blockquote> <script src="//platform.instagram.com/en_US/embeds.js" async=""></script>
<blockquote class="instagram-media" style="background: #FFF; border: 0; border-radius: 3px; box-shadow: 0 0 1px 0 rgba(0,0,0,0.5),0 1px 10px 0 rgba(0,0,0,0.15); margin: 1px; max-width: 658px; padding: 0; width: calc(100% - 2px);" data-instgrm-captioned="" data-instgrm-version="7"> <div style="padding: 8px;"> <div style="background: #F8F8F8; line-height: 0; margin-top: 40px; padding: 50.0% 0; text-align: center; width: 100%;"> <div style="background: url(data:image/png; base64,ivborw0kggoaaaansuheugaaacwaaaascamaaaapwqozaaaabgdbtueaalgpc/xhbqaaaafzukdcak7ohokaaaamuexurczmzpf399fx1+bm5mzy9amaaadisurbvdjlvzxbesmgces5/p8/t9furvcrmu73jwlzosgsiizurcjo/ad+eqjjb4hv8bft+idpqocx1wjosbfhh2xssxeiyn3uli/6mnree07uiwjev8ueowds88ly97kqytlijkktuybbruayvh5wohixmpi5we58ek028czwyuqdlkpg1bkb4nnm+veanfhqn1k4+gpt6ugqcvu2h2ovuif/gwufyy8owepdyzsa3avcqpvovvzzz2vtnn2wu8qzvjddeto90gsy9mvlqtgysy231mxry6i2ggqjrty0l8fxcxfcbbhwrsyyaaaaaelftksuqmcc); display: block; height: 44px; margin: 0 auto -44px; position: relative; top: -22px; width: 44px;"></div> </div> <p style="margin: 8px 0 0 0; padding: 0 4px;"><a style="color: #000; font-family: Arial,sans-serif; font-size: 14px; font-style: normal; font-weight: normal; line-height: 17px; text-decoration: none; word-wrap: break-word;" href="https://www.instagram.com/p/7lKeehsd4a/" target="_blank">Old pic.. So busy today, but happy..✌️Good night world </a></p> </div> </blockquote>
<blockquote class="instagram-media" style="background: #FFF; border: 0; border-radius: 3px; box-shadow: 0 0 1px 0 rgba(0,0,0,0.5),0 1px 10px 0 rgba(0,0,0,0.15); margin: 1px; max-width: 658px; padding: 0; width: calc(100% - 2px);" data-instgrm-captioned="" data-instgrm-version="7"> <div style="padding: 8px;"> <div style="background: #F8F8F8; line-height: 0; margin-top: 40px; padding: 62.5% 0; text-align: center; width: 100%;"> <div style="background: url(data:image/png; base64,ivborw0kggoaaaansuheugaaacwaaaascamaaaapwqozaaaabgdbtueaalgpc/xhbqaaaafzukdcak7ohokaaaamuexurczmzpf399fx1+bm5mzy9amaaadisurbvdjlvzxbesmgces5/p8/t9furvcrmu73jwlzosgsiizurcjo/ad+eqjjb4hv8bft+idpqocx1wjosbfhh2xssxeiyn3uli/6mnree07uiwjev8ueowds88ly97kqytlijkktuybbruayvh5wohixmpi5we58ek028czwyuqdlkpg1bkb4nnm+veanfhqn1k4+gpt6ugqcvu2h2ovuif/gwufyy8owepdyzsa3avcqpvovvzzz2vtnn2wu8qzvjddeto90gsy9mvlqtgysy231mxry6i2ggqjrty0l8fxcxfcbbhwrsyyaaaaaelftksuqmcc); display: block; height: 44px; margin: 0 auto -44px; position: relative; top: -22px; width: 44px;"></div> </div> <p style="margin: 8px 0 0 0; padding: 0 4px;"><a style="color: #000; font-family: Arial,sans-serif; font-size: 14px; font-style: normal; font-weight: normal; line-height: 17px; text-decoration: none; word-wrap: break-word;" href="https://www.instagram.com/p/BFCUDIfgDiJ/" target="_blank">Tylko tak ✌</a></p> </div> </blockquote>
<blockquote class="instagram-media" style="background: #FFF; border: 0; border-radius: 3px; box-shadow: 0 0 1px 0 rgba(0,0,0,0.5),0 1px 10px 0 rgba(0,0,0,0.15); margin: 1px; max-width: 658px; padding: 0; width: calc(100% - 2px);" data-instgrm-captioned="" data-instgrm-version="7"> <div style="padding: 8px;"> <div style="background: #F8F8F8; line-height: 0; margin-top: 40px; padding: 62.5% 0; text-align: center; width: 100%;"> <div style="background: url(data:image/png; base64,ivborw0kggoaaaansuheugaaacwaaaascamaaaapwqozaaaabgdbtueaalgpc/xhbqaaaafzukdcak7ohokaaaamuexurczmzpf399fx1+bm5mzy9amaaadisurbvdjlvzxbesmgces5/p8/t9furvcrmu73jwlzosgsiizurcjo/ad+eqjjb4hv8bft+idpqocx1wjosbfhh2xssxeiyn3uli/6mnree07uiwjev8ueowds88ly97kqytlijkktuybbruayvh5wohixmpi5we58ek028czwyuqdlkpg1bkb4nnm+veanfhqn1k4+gpt6ugqcvu2h2ovuif/gwufyy8owepdyzsa3avcqpvovvzzz2vtnn2wu8qzvjddeto90gsy9mvlqtgysy231mxry6i2ggqjrty0l8fxcxfcbbhwrsyyaaaaaelftksuqmcc); display: block; height: 44px; margin: 0 auto -44px; position: relative; top: -22px; width: 44px;"></div> </div> <p style="margin: 8px 0 0 0; padding: 0 4px;"><a style="color: #000; font-family: Arial,sans-serif; font-size: 14px; font-style: normal; font-weight: normal; line-height: 17px; text-decoration: none; word-wrap: break-word;" href="https://www.instagram.com/p/9OEG-GADvv/" target="_blank">#hammock ❤ #fikumiku #beachlife #chill #rest #paradise #lagoon #summer #red #outfit #style #shot #vacation #travel #love #sea #myview #bestoftheday #discover #maldives #kami_w_podróży </a></p> </div> </blockquote>
<blockquote class="instagram-media" style="background: #FFF; border: 0; border-radius: 3px; box-shadow: 0 0 1px 0 rgba(0,0,0,0.5),0 1px 10px 0 rgba(0,0,0,0.15); margin: 1px; max-width: 658px; padding: 0; width: calc(100% - 2px);" data-instgrm-captioned="" data-instgrm-version="7"> <div style="padding: 8px;"> <div style="background: #F8F8F8; line-height: 0; margin-top: 40px; padding: 62.3148148148% 0; text-align: center; width: 100%;"> <div style="background: url(data:image/png; base64,ivborw0kggoaaaansuheugaaacwaaaascamaaaapwqozaaaabgdbtueaalgpc/xhbqaaaafzukdcak7ohokaaaamuexurczmzpf399fx1+bm5mzy9amaaadisurbvdjlvzxbesmgces5/p8/t9furvcrmu73jwlzosgsiizurcjo/ad+eqjjb4hv8bft+idpqocx1wjosbfhh2xssxeiyn3uli/6mnree07uiwjev8ueowds88ly97kqytlijkktuybbruayvh5wohixmpi5we58ek028czwyuqdlkpg1bkb4nnm+veanfhqn1k4+gpt6ugqcvu2h2ovuif/gwufyy8owepdyzsa3avcqpvovvzzz2vtnn2wu8qzvjddeto90gsy9mvlqtgysy231mxry6i2ggqjrty0l8fxcxfcbbhwrsyyaaaaaelftksuqmcc); display: block; height: 44px; margin: 0 auto -44px; position: relative; top: -22px; width: 44px;"></div> </div> <p style="margin: 8px 0 0 0; padding: 0 4px;"><a style="color: #000; font-family: Arial,sans-serif; font-size: 14px; font-style: normal; font-weight: normal; line-height: 17px; text-decoration: none; word-wrap: break-word;" href="https://www.instagram.com/p/BERKoGsQrAc/" target="_blank">#dinnertime </a></p> </div> </blockquote>
<blockquote class="instagram-media" style="background: #FFF; border: 0; border-radius: 3px; box-shadow: 0 0 1px 0 rgba(0,0,0,0.5),0 1px 10px 0 rgba(0,0,0,0.15); margin: 1px; max-width: 658px; padding: 0; width: calc(100% - 2px);" data-instgrm-captioned="" data-instgrm-version="7"> <div style="padding: 8px;"> <div style="background: #F8F8F8; line-height: 0; margin-top: 40px; padding: 50.0% 0; text-align: center; width: 100%;"> <div style="background: url(data:image/png; base64,ivborw0kggoaaaansuheugaaacwaaaascamaaaapwqozaaaabgdbtueaalgpc/xhbqaaaafzukdcak7ohokaaaamuexurczmzpf399fx1+bm5mzy9amaaadisurbvdjlvzxbesmgces5/p8/t9furvcrmu73jwlzosgsiizurcjo/ad+eqjjb4hv8bft+idpqocx1wjosbfhh2xssxeiyn3uli/6mnree07uiwjev8ueowds88ly97kqytlijkktuybbruayvh5wohixmpi5we58ek028czwyuqdlkpg1bkb4nnm+veanfhqn1k4+gpt6ugqcvu2h2ovuif/gwufyy8owepdyzsa3avcqpvovvzzz2vtnn2wu8qzvjddeto90gsy9mvlqtgysy231mxry6i2ggqjrty0l8fxcxfcbbhwrsyyaaaaaelftksuqmcc); display: block; height: 44px; margin: 0 auto -44px; position: relative; top: -22px; width: 44px;"></div> </div> <p style="margin: 8px 0 0 0; padding: 0 4px;"><a style="color: #000; font-family: Arial,sans-serif; font-size: 14px; font-style: normal; font-weight: normal; line-height: 17px; text-decoration: none; word-wrap: break-word;" href="https://www.instagram.com/p/BDlA89QQrFX/" target="_blank">Spódnica z eko skory: @lovesaints.pl_shop </a></p> </div> </blockquote>
<blockquote class="instagram-media" style="background: #FFF; border: 0; border-radius: 3px; box-shadow: 0 0 1px 0 rgba(0,0,0,0.5),0 1px 10px 0 rgba(0,0,0,0.15); margin: 1px; max-width: 658px; padding: 0; width: calc(100% - 2px);" data-instgrm-captioned="" data-instgrm-version="7"> <div style="padding: 8px;"> <div style="background: #F8F8F8; line-height: 0; margin-top: 40px; padding: 50.0% 0; text-align: center; width: 100%;"> <div style="background: url(data:image/png; base64,ivborw0kggoaaaansuheugaaacwaaaascamaaaapwqozaaaabgdbtueaalgpc/xhbqaaaafzukdcak7ohokaaaamuexurczmzpf399fx1+bm5mzy9amaaadisurbvdjlvzxbesmgces5/p8/t9furvcrmu73jwlzosgsiizurcjo/ad+eqjjb4hv8bft+idpqocx1wjosbfhh2xssxeiyn3uli/6mnree07uiwjev8ueowds88ly97kqytlijkktuybbruayvh5wohixmpi5we58ek028czwyuqdlkpg1bkb4nnm+veanfhqn1k4+gpt6ugqcvu2h2ovuif/gwufyy8owepdyzsa3avcqpvovvzzz2vtnn2wu8qzvjddeto90gsy9mvlqtgysy231mxry6i2ggqjrty0l8fxcxfcbbhwrsyyaaaaaelftksuqmcc); display: block; height: 44px; margin: 0 auto -44px; position: relative; top: -22px; width: 44px;"></div> </div> <p style="margin: 8px 0 0 0; padding: 0 4px;"><a style="color: #000; font-family: Arial,sans-serif; font-size: 14px; font-style: normal; font-weight: normal; line-height: 17px; text-decoration: none; word-wrap: break-word;" href="https://www.instagram.com/p/6mkA6eQrIg/" target="_blank">Moja czerwona </a></p> </div> </blockquote>
<blockquote class="instagram-media" style="background: #FFF; border: 0; border-radius: 3px; box-shadow: 0 0 1px 0 rgba(0,0,0,0.5),0 1px 10px 0 rgba(0,0,0,0.15); margin: 1px; max-width: 658px; padding: 0; width: calc(100% - 2px);" data-instgrm-captioned="" data-instgrm-version="7"> <div style="padding: 8px;"> <div style="background: #F8F8F8; line-height: 0; margin-top: 40px; padding: 50.0% 0; text-align: center; width: 100%;"> <div style="background: url(data:image/png; base64,ivborw0kggoaaaansuheugaaacwaaaascamaaaapwqozaaaabgdbtueaalgpc/xhbqaaaafzukdcak7ohokaaaamuexurczmzpf399fx1+bm5mzy9amaaadisurbvdjlvzxbesmgces5/p8/t9furvcrmu73jwlzosgsiizurcjo/ad+eqjjb4hv8bft+idpqocx1wjosbfhh2xssxeiyn3uli/6mnree07uiwjev8ueowds88ly97kqytlijkktuybbruayvh5wohixmpi5we58ek028czwyuqdlkpg1bkb4nnm+veanfhqn1k4+gpt6ugqcvu2h2ovuif/gwufyy8owepdyzsa3avcqpvovvzzz2vtnn2wu8qzvjddeto90gsy9mvlqtgysy231mxry6i2ggqjrty0l8fxcxfcbbhwrsyyaaaaaelftksuqmcc); display: block; height: 44px; margin: 0 auto -44px; position: relative; top: -22px; width: 44px;"></div> </div> <p style="margin: 8px 0 0 0; padding: 0 4px;"><a style="color: #000; font-family: Arial,sans-serif; font-size: 14px; font-style: normal; font-weight: normal; line-height: 17px; text-decoration: none; word-wrap: break-word;" href="https://www.instagram.com/p/59AEe_lO61/" target="_blank">Dzień Dobry! </a></p> </div> </blockquote>
<blockquote class="instagram-media" style="background: #FFF; border: 0; border-radius: 3px; box-shadow: 0 0 1px 0 rgba(0,0,0,0.5),0 1px 10px 0 rgba(0,0,0,0.15); margin: 1px; max-width: 658px; padding: 0; width: calc(100% - 2px);" data-instgrm-captioned="" data-instgrm-version="7"> <div style="padding: 8px;"> <div style="background: #F8F8F8; line-height: 0; margin-top: 40px; padding: 50.0% 0; text-align: center; width: 100%;"> <div style="background: url(data:image/png; base64,ivborw0kggoaaaansuheugaaacwaaaascamaaaapwqozaaaabgdbtueaalgpc/xhbqaaaafzukdcak7ohokaaaamuexurczmzpf399fx1+bm5mzy9amaaadisurbvdjlvzxbesmgces5/p8/t9furvcrmu73jwlzosgsiizurcjo/ad+eqjjb4hv8bft+idpqocx1wjosbfhh2xssxeiyn3uli/6mnree07uiwjev8ueowds88ly97kqytlijkktuybbruayvh5wohixmpi5we58ek028czwyuqdlkpg1bkb4nnm+veanfhqn1k4+gpt6ugqcvu2h2ovuif/gwufyy8owepdyzsa3avcqpvovvzzz2vtnn2wu8qzvjddeto90gsy9mvlqtgysy231mxry6i2ggqjrty0l8fxcxfcbbhwrsyyaaaaaelftksuqmcc); display: block; height: 44px; margin: 0 auto -44px; position: relative; top: -22px; width: 44px;"></div> </div> <p style="margin: 8px 0 0 0; padding: 0 4px;"><a style="color: #000; font-family: Arial,sans-serif; font-size: 14px; font-style: normal; font-weight: normal; line-height: 17px; text-decoration: none; word-wrap: break-word;" href="https://www.instagram.com/p/7DosNEFO7n/" target="_blank">Co prawda na tapecie już jesień </a></p> </div> </blockquote>