Easy product returns
Buy a product and check it in your own time, at home.
You can return the product without providing a reason within 14 days.
Show details
14 days for

a return
Your satisfaction is very important to us, therefore you can make a return without providing a reason within 14 days.
Free return
We care about your convenience, therefore we offer you an easy-to-use return module.
Easy returns

wizard
All returns processed by our shop are managed in a easy-to-use returns wizard which gives you the ability to send a return parcel.
This product is available in our stores
You can buy this product without placing an online order at one of our stores in your area. Check where the product is in stock.
Check availability
Delicate, light top in a beautiful holiday color.
Broad and decorative ribbon to be tied on the arms give it more feminine and sensual character.

Made of high quality cotton fabric, you will love your skin.
Fantastic proposal on a hot day holiday - just - to shorts!
The model that the simplest styling turn in the original BOHO LOOK.



Material composition

: 100% cotton    

Polish product

    

ONE SIZE  

breathable material

    

Constraints

on the shoulders    
The top

fashion

    


Style BOHO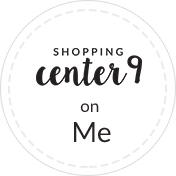 WHITE MAURITIUS TOP styled by the SC9 on Me! community
<blockquote class="instagram-media" style="background: #FFF; border: 0; border-radius: 3px; box-shadow: 0 0 1px 0 rgba(0,0,0,0.5),0 1px 10px 0 rgba(0,0,0,0.15); margin: 1px; max-width: 658px; padding: 0; width: calc(100% - 2px);" data-instgrm-version="7"> <div style="padding: 8px;"> <div style="background: #F8F8F8; line-height: 0; margin-top: 40px; padding: 62.4537037037037% 0; text-align: center; width: 100%;"> <div style="background: url(data:image/png; base64,ivborw0kggoaaaansuheugaaacwaaaascamaaaapwqozaaaabgdbtueaalgpc/xhbqaaaafzukdcak7ohokaaaamuexurczmzpf399fx1+bm5mzy9amaaadisurbvdjlvzxbesmgces5/p8/t9furvcrmu73jwlzosgsiizurcjo/ad+eqjjb4hv8bft+idpqocx1wjosbfhh2xssxeiyn3uli/6mnree07uiwjev8ueowds88ly97kqytlijkktuybbruayvh5wohixmpi5we58ek028czwyuqdlkpg1bkb4nnm+veanfhqn1k4+gpt6ugqcvu2h2ovuif/gwufyy8owepdyzsa3avcqpvovvzzz2vtnn2wu8qzvjddeto90gsy9mvlqtgysy231mxry6i2ggqjrty0l8fxcxfcbbhwrsyyaaaaaelftksuqmcc); display: block; height: 44px; margin: 0 auto -44px; position: relative; top: -22px; width: 44px;"></div> </div> <p style="color: #c9c8cd; font-family: Arial,sans-serif; font-size: 14px; line-height: 17px; margin-bottom: 0; margin-top: 8px; overflow: hidden; padding: 8px 0 7px; text-align: center; text-overflow: ellipsis; white-space: nowrap;"><a style="color: #c9c8cd; font-family: Arial,sans-serif; font-size: 14px; font-style: normal; font-weight: normal; line-height: 17px; text-decoration: none;" href="https://www.instagram.com/p/BRyJL0qh3Oz/" target="_blank">Post udostępniony przez Alicja Sudakowska
<blockquote class="instagram-media" style="background: #FFF; border: 0; border-radius: 3px; box-shadow: 0 0 1px 0 rgba(0,0,0,0.5),0 1px 10px 0 rgba(0,0,0,0.15); margin: 1px; max-width: 658px; padding: 0; width: calc(100% - 2px);" data-instgrm-version="7"> <div style="padding: 8px;"> <div style="background: #F8F8F8; line-height: 0; margin-top: 40px; padding: 50.0% 0; text-align: center; width: 100%;"> <div style="background: url(data:image/png; base64,ivborw0kggoaaaansuheugaaacwaaaascamaaaapwqozaaaabgdbtueaalgpc/xhbqaaaafzukdcak7ohokaaaamuexurczmzpf399fx1+bm5mzy9amaaadisurbvdjlvzxbesmgces5/p8/t9furvcrmu73jwlzosgsiizurcjo/ad+eqjjb4hv8bft+idpqocx1wjosbfhh2xssxeiyn3uli/6mnree07uiwjev8ueowds88ly97kqytlijkktuybbruayvh5wohixmpi5we58ek028czwyuqdlkpg1bkb4nnm+veanfhqn1k4+gpt6ugqcvu2h2ovuif/gwufyy8owepdyzsa3avcqpvovvzzz2vtnn2wu8qzvjddeto90gsy9mvlqtgysy231mxry6i2ggqjrty0l8fxcxfcbbhwrsyyaaaaaelftksuqmcc); display: block; height: 44px; margin: 0 auto -44px; position: relative; top: -22px; width: 44px;"></div> </div> <p style="color: #c9c8cd; font-family: Arial,sans-serif; font-size: 14px; line-height: 17px; margin-bottom: 0; margin-top: 8px; overflow: hidden; padding: 8px 0 7px; text-align: center; text-overflow: ellipsis; white-space: nowrap;"><a style="color: #c9c8cd; font-family: Arial,sans-serif; font-size: 14px; font-style: normal; font-weight: normal; line-height: 17px; text-decoration: none;" href="https://www.instagram.com/p/BKBTm9ADO8j/" target="_blank">Post udostępniony przez Shopping Center 9 (@shoppingcenter9)</a> <time style="font-family: Arial,sans-serif; font-size: 14px; line-height: 17px;" datetime="2016-09-06T16:00:46+00:00">6 Wrz, 2016 o 9:00 PDT</time></p> </div> </blockquote> <script src="//platform.instagram.com/en_US/embeds.js" async=""></script>
<blockquote class="instagram-media" style="background: #FFF; border: 0; border-radius: 3px; box-shadow: 0 0 1px 0 rgba(0,0,0,0.5),0 1px 10px 0 rgba(0,0,0,0.15); margin: 1px; max-width: 658px; padding: 0; width: calc(100% - 2px);" data-instgrm-version="7"> <div style="padding: 8px;"> <div style="background: #F8F8F8; line-height: 0; margin-top: 40px; padding: 50.0% 0; text-align: center; width: 100%;"> <div style="background: url(data:image/png; base64,ivborw0kggoaaaansuheugaaacwaaaascamaaaapwqozaaaabgdbtueaalgpc/xhbqaaaafzukdcak7ohokaaaamuexurczmzpf399fx1+bm5mzy9amaaadisurbvdjlvzxbesmgces5/p8/t9furvcrmu73jwlzosgsiizurcjo/ad+eqjjb4hv8bft+idpqocx1wjosbfhh2xssxeiyn3uli/6mnree07uiwjev8ueowds88ly97kqytlijkktuybbruayvh5wohixmpi5we58ek028czwyuqdlkpg1bkb4nnm+veanfhqn1k4+gpt6ugqcvu2h2ovuif/gwufyy8owepdyzsa3avcqpvovvzzz2vtnn2wu8qzvjddeto90gsy9mvlqtgysy231mxry6i2ggqjrty0l8fxcxfcbbhwrsyyaaaaaelftksuqmcc); display: block; height: 44px; margin: 0 auto -44px; position: relative; top: -22px; width: 44px;"></div> </div> <p style="color: #c9c8cd; font-family: Arial,sans-serif; font-size: 14px; line-height: 17px; margin-bottom: 0; margin-top: 8px; overflow: hidden; padding: 8px 0 7px; text-align: center; text-overflow: ellipsis; white-space: nowrap;"><a style="color: #c9c8cd; font-family: Arial,sans-serif; font-size: 14px; font-style: normal; font-weight: normal; line-height: 17px; text-decoration: none;" href="https://www.instagram.com/p/BKBXvWKD9o-/" target="_blank">Post udostępniony przez Shopping Center 9 (@shoppingcenter9)</a> <time style="font-family: Arial,sans-serif; font-size: 14px; line-height: 17px;" datetime="2016-09-06T16:36:52+00:00">6 Wrz, 2016 o 9:36 PDT</time></p> </div> </blockquote> <script src="//platform.instagram.com/en_US/embeds.js" async=""></script>
<blockquote class="instagram-media" style="background: #FFF; border: 0; border-radius: 3px; box-shadow: 0 0 1px 0 rgba(0,0,0,0.5),0 1px 10px 0 rgba(0,0,0,0.15); margin: 1px; max-width: 658px; padding: 0; width: calc(100% - 2px);" data-instgrm-version="7"> <div style="padding: 8px;"> <div style="background: #F8F8F8; line-height: 0; margin-top: 40px; padding: 62.5% 0; text-align: center; width: 100%;"> <div style="background: url(data:image/png; base64,ivborw0kggoaaaansuheugaaacwaaaascamaaaapwqozaaaabgdbtueaalgpc/xhbqaaaafzukdcak7ohokaaaamuexurczmzpf399fx1+bm5mzy9amaaadisurbvdjlvzxbesmgces5/p8/t9furvcrmu73jwlzosgsiizurcjo/ad+eqjjb4hv8bft+idpqocx1wjosbfhh2xssxeiyn3uli/6mnree07uiwjev8ueowds88ly97kqytlijkktuybbruayvh5wohixmpi5we58ek028czwyuqdlkpg1bkb4nnm+veanfhqn1k4+gpt6ugqcvu2h2ovuif/gwufyy8owepdyzsa3avcqpvovvzzz2vtnn2wu8qzvjddeto90gsy9mvlqtgysy231mxry6i2ggqjrty0l8fxcxfcbbhwrsyyaaaaaelftksuqmcc); display: block; height: 44px; margin: 0 auto -44px; position: relative; top: -22px; width: 44px;"></div> </div> <p style="color: #c9c8cd; font-family: Arial,sans-serif; font-size: 14px; line-height: 17px; margin-bottom: 0; margin-top: 8px; overflow: hidden; padding: 8px 0 7px; text-align: center; text-overflow: ellipsis; white-space: nowrap;"><a style="color: #c9c8cd; font-family: Arial,sans-serif; font-size: 14px; font-style: normal; font-weight: normal; line-height: 17px; text-decoration: none;" href="https://www.instagram.com/p/BI4S-_ljYSL/" target="_blank">Post udostępniony przez Alicja Sudakowska
<blockquote class="instagram-media" style="background: #FFF; border: 0; border-radius: 3px; box-shadow: 0 0 1px 0 rgba(0,0,0,0.5),0 1px 10px 0 rgba(0,0,0,0.15); margin: 1px; max-width: 658px; padding: 0; width: calc(100% - 2px);" data-instgrm-version="7"> <div style="padding: 8px;"> <div style="background: #F8F8F8; line-height: 0; margin-top: 40px; padding: 50.0% 0; text-align: center; width: 100%;"> <div style="background: url(data:image/png; base64,ivborw0kggoaaaansuheugaaacwaaaascamaaaapwqozaaaabgdbtueaalgpc/xhbqaaaafzukdcak7ohokaaaamuexurczmzpf399fx1+bm5mzy9amaaadisurbvdjlvzxbesmgces5/p8/t9furvcrmu73jwlzosgsiizurcjo/ad+eqjjb4hv8bft+idpqocx1wjosbfhh2xssxeiyn3uli/6mnree07uiwjev8ueowds88ly97kqytlijkktuybbruayvh5wohixmpi5we58ek028czwyuqdlkpg1bkb4nnm+veanfhqn1k4+gpt6ugqcvu2h2ovuif/gwufyy8owepdyzsa3avcqpvovvzzz2vtnn2wu8qzvjddeto90gsy9mvlqtgysy231mxry6i2ggqjrty0l8fxcxfcbbhwrsyyaaaaaelftksuqmcc); display: block; height: 44px; margin: 0 auto -44px; position: relative; top: -22px; width: 44px;"></div> </div> <p style="color: #c9c8cd; font-family: Arial,sans-serif; font-size: 14px; line-height: 17px; margin-bottom: 0; margin-top: 8px; overflow: hidden; padding: 8px 0 7px; text-align: center; text-overflow: ellipsis; white-space: nowrap;"><a style="color: #c9c8cd; font-family: Arial,sans-serif; font-size: 14px; font-style: normal; font-weight: normal; line-height: 17px; text-decoration: none;" href="https://www.instagram.com/p/BJca3pwg67U/" target="_blank">Post udostępniony przez Marta Warsaw. (@da_midays)</a> <time style="font-family: Arial,sans-serif; font-size: 14px; line-height: 17px;" datetime="2016-08-23T08:12:19+00:00">23 Sie, 2016 o 1:12 PDT</time></p> </div> </blockquote> <script src="//platform.instagram.com/en_US/embeds.js" async=""></script>
<blockquote class="instagram-media" style="background: #FFF; border: 0; border-radius: 3px; box-shadow: 0 0 1px 0 rgba(0,0,0,0.5),0 1px 10px 0 rgba(0,0,0,0.15); margin: 1px; max-width: 658px; padding: 0; width: calc(100% - 2px);" data-instgrm-version="7"> <div style="padding: 8px;"> <div style="background: #F8F8F8; line-height: 0; margin-top: 40px; padding: 50.0% 0; text-align: center; width: 100%;"> <div style="background: url(data:image/png; base64,ivborw0kggoaaaansuheugaaacwaaaascamaaaapwqozaaaabgdbtueaalgpc/xhbqaaaafzukdcak7ohokaaaamuexurczmzpf399fx1+bm5mzy9amaaadisurbvdjlvzxbesmgces5/p8/t9furvcrmu73jwlzosgsiizurcjo/ad+eqjjb4hv8bft+idpqocx1wjosbfhh2xssxeiyn3uli/6mnree07uiwjev8ueowds88ly97kqytlijkktuybbruayvh5wohixmpi5we58ek028czwyuqdlkpg1bkb4nnm+veanfhqn1k4+gpt6ugqcvu2h2ovuif/gwufyy8owepdyzsa3avcqpvovvzzz2vtnn2wu8qzvjddeto90gsy9mvlqtgysy231mxry6i2ggqjrty0l8fxcxfcbbhwrsyyaaaaaelftksuqmcc); display: block; height: 44px; margin: 0 auto -44px; position: relative; top: -22px; width: 44px;"></div> </div> <p style="color: #c9c8cd; font-family: Arial,sans-serif; font-size: 14px; line-height: 17px; margin-bottom: 0; margin-top: 8px; overflow: hidden; padding: 8px 0 7px; text-align: center; text-overflow: ellipsis; white-space: nowrap;"><a style="color: #c9c8cd; font-family: Arial,sans-serif; font-size: 14px; font-style: normal; font-weight: normal; line-height: 17px; text-decoration: none;" href="https://www.instagram.com/p/BKIVtqTDeQF/" target="_blank">Post udostępniony przez Shopping Center 9 (@shoppingcenter9)</a> <time style="font-family: Arial,sans-serif; font-size: 14px; line-height: 17px;" datetime="2016-09-09T09:33:51+00:00">9 Wrz, 2016 o 2:33 PDT</time></p> </div> </blockquote> <script src="//platform.instagram.com/en_US/embeds.js" async=""></script>
<blockquote class="instagram-media" style="background: #FFF; border: 0; border-radius: 3px; box-shadow: 0 0 1px 0 rgba(0,0,0,0.5),0 1px 10px 0 rgba(0,0,0,0.15); margin: 1px; max-width: 658px; padding: 0; width: calc(100% - 2px);" data-instgrm-version="7"> <div style="padding: 8px;"> <div style="background: #F8F8F8; line-height: 0; margin-top: 40px; padding: 62.5% 0; text-align: center; width: 100%;"> <div style="background: url(data:image/png; base64,ivborw0kggoaaaansuheugaaacwaaaascamaaaapwqozaaaabgdbtueaalgpc/xhbqaaaafzukdcak7ohokaaaamuexurczmzpf399fx1+bm5mzy9amaaadisurbvdjlvzxbesmgces5/p8/t9furvcrmu73jwlzosgsiizurcjo/ad+eqjjb4hv8bft+idpqocx1wjosbfhh2xssxeiyn3uli/6mnree07uiwjev8ueowds88ly97kqytlijkktuybbruayvh5wohixmpi5we58ek028czwyuqdlkpg1bkb4nnm+veanfhqn1k4+gpt6ugqcvu2h2ovuif/gwufyy8owepdyzsa3avcqpvovvzzz2vtnn2wu8qzvjddeto90gsy9mvlqtgysy231mxry6i2ggqjrty0l8fxcxfcbbhwrsyyaaaaaelftksuqmcc); display: block; height: 44px; margin: 0 auto -44px; position: relative; top: -22px; width: 44px;"></div> </div> <p style="color: #c9c8cd; font-family: Arial,sans-serif; font-size: 14px; line-height: 17px; margin-bottom: 0; margin-top: 8px; overflow: hidden; padding: 8px 0 7px; text-align: center; text-overflow: ellipsis; white-space: nowrap;"><a style="color: #c9c8cd; font-family: Arial,sans-serif; font-size: 14px; font-style: normal; font-weight: normal; line-height: 17px; text-decoration: none;" href="https://www.instagram.com/p/BEGlxvjlO4x/" target="_blank">Zdjęcie zamieszczone przez użytkownika Magda (@magdajaa)</a> <time style="font-family: Arial,sans-serif; font-size: 14px; line-height: 17px;" datetime="2016-04-12T14:07:22+00:00">12 Kwi, 2016 o 7:07 PDT</time></p> </div> </blockquote> <script src="//platform.instagram.com/en_US/embeds.js"></script>
<blockquote class="instagram-media" style="background: #FFF; border: 0; border-radius: 3px; box-shadow: 0 0 1px 0 rgba(0,0,0,0.5),0 1px 10px 0 rgba(0,0,0,0.15); margin: 1px; max-width: 658px; padding: 0; width: calc(100% - 2px);" data-instgrm-version="7"> <div style="padding: 8px;"> <div style="background: #F8F8F8; line-height: 0; margin-top: 40px; padding: 52.986111111111114% 0; text-align: center; width: 100%;"> <div style="background: url(data:image/png; base64,ivborw0kggoaaaansuheugaaacwaaaascamaaaapwqozaaaabgdbtueaalgpc/xhbqaaaafzukdcak7ohokaaaamuexurczmzpf399fx1+bm5mzy9amaaadisurbvdjlvzxbesmgces5/p8/t9furvcrmu73jwlzosgsiizurcjo/ad+eqjjb4hv8bft+idpqocx1wjosbfhh2xssxeiyn3uli/6mnree07uiwjev8ueowds88ly97kqytlijkktuybbruayvh5wohixmpi5we58ek028czwyuqdlkpg1bkb4nnm+veanfhqn1k4+gpt6ugqcvu2h2ovuif/gwufyy8owepdyzsa3avcqpvovvzzz2vtnn2wu8qzvjddeto90gsy9mvlqtgysy231mxry6i2ggqjrty0l8fxcxfcbbhwrsyyaaaaaelftksuqmcc); display: block; height: 44px; margin: 0 auto -44px; position: relative; top: -22px; width: 44px;"></div> </div> <p style="color: #c9c8cd; font-family: Arial,sans-serif; font-size: 14px; line-height: 17px; margin-bottom: 0; margin-top: 8px; overflow: hidden; padding: 8px 0 7px; text-align: center; text-overflow: ellipsis; white-space: nowrap;"><a style="color: #c9c8cd; font-family: Arial,sans-serif; font-size: 14px; font-style: normal; font-weight: normal; line-height: 17px; text-decoration: none;" href="https://www.instagram.com/p/BU5Hi-xlPv3/" target="_blank">Post udostępniony przez Anna Skoog (@annamavridis)</a> <time style="font-family: Arial,sans-serif; font-size: 14px; line-height: 17px;" datetime="2017-06-03T21:26:47+00:00">3 Cze, 2017 o 2:26 PDT</time></p> </div> </blockquote> <script src="//platform.instagram.com/en_US/embeds.js" async=""></script>